On His Path is a private, non-profit organization committed to glorifying Jesus by coming alongside those in need.
For over a decade, we have partnered with other non-profit organizations who are helping those less fortunate and sharing with them the love of Jesus Christ.
And we have made great strides both locally and around the world through numerous grants that are funded both internally and through donations made by individuals like you to On His Path.
Around the World
On His Path partners with organizations throughout the United States, Haiti, Guatemala, El Salvador, Mexico, Peru, Uganda, Tanzania, Ethiopia, Sierra Leone, India, and more. We believe that significant and lasting change should happen within local communities and is best when built on the solid foundation of the love of Jesus Christ. (Please click on a country in the interactive map for more details.)
Types of Programs On His Path Supports:
Helping with educational opportunities for those in most need
Support for widows and orphans
Alleviating a variety of pediatric and adult conditions and deformities such as clubfoot
Promoting clean water and nutrition programs
Providing shelter for the homeless
Providing support for Christian pastors in developing countries
And most of all supporting those that are sharing the Gospel and the love of Jesus Christ
---
Here Are Some of the Organizations We Sponsor: 
Bethel Ministries International
Area of Focus: 
On His Path assist Bethel Ministries International provide aid poor and disabled in Guatemala. BMI has helped hundreds of Guatemalans to improve their lives through providing free wheelchairs, crutches and canes that have been donated from people in the US through organizations like Mission Mobility (also listed below), while sharing with them the Gospel and love of Jesus Christ.
BMI also provides home construction, food distribution and educational sponsorship for those in need in Guatemala.
Website: http://www.bethelministriesinternational.com/
---
Area of Focus: 
On His Path provides funding to Campus Crusade for Christ for funding of their campus ministries engaging more than 82,000 involved students in the US college campuses.
View an update from Indy and Dawn Little  who discuss the impact of CRU around the world:
Website: https://www.cru.org/
---
Clubfoot Program –  El Salvador
Area of Focus: 
The Clubfoot Program – El Salvador has been supported for many years by On His Path. The Program is coordinated by Mayra De Arteaga, and they provide clubfoot treatment to thousands of children as well as adults in El Salvador, using the gold standard Ponseti Method for clubfoot treatment.
Partnering with 7 Ponseti Clinics in El Salvador, free treatment is being given to help those that are in the most need. This video provides an update for the activities of the clinics over the year 2018 and shows patients who have benefitted from their help.
This year the Ponseti Kids Clubfoot Sponsorship Program was launched, allowing donors to help a specific child so that their contribution can have a direct impact on the child and their family.
Please visit our El Salvador Clubfoot Program Facebook page: https://www.facebook.com/piequinovaroelsalvador
---
Compassion International
Area of Focus: 
Compassion International provides sponsorship of children who are in extreme poverty, and addresses not only their immediate physical needs, but also builds self-esteem and self-respect. They do this while sharing the good news about Jesus in a culturally relevant and unconditional way with everyone they serve.
On His Path provides resources to assist unsponsored children, the leadership fund, and leadership development to assist holistic child development.
Website: http://www.compassion.com/
---
Development for Freedom International


Area of Focus: 
Development for Freedom International (DFI) is a Christian based 501(c)(3) non-profit organization dedicated to restore fragmented and dysfunctional families while serving underprivileged women and children of all religions and ethnicities. Our organization is based within the United States, Canada and South Korea and currently operates in Haiti.
Website: http://www.developmentforfreedom.com
---
Frontiers' mission is to inspire transformational movements to Christ within unengaged Muslim people groups by sending teams to catalyze change, because even the most uncharted frontiers need Jesus.
Their process is to recruit new teams of long-term worker, train the workers with tools like Discovery Bible Studies, send these new workers to unengaged Muslim people groups, and to serve workers spiritually and practically for fruitful ministry.
Website: https://frontiersusa.org
---
Fundación Mexicana Del Pie Equino
Area of Focus: 
The Mexican Clubfoot Foundation promotes the understanding and treatment of clubfoot deformity using the gold-standard Ponseti method, to promote the welfare and human dignity of children born with this condition in Mexico.
The daughter of Male Garcia Torres was treated for clubfoot using the Ponseti method in Iowa City. It was through her experiences there that she realized the lack of clubfoot treatment services in Mexico so she set out to create awareness and provide treatment for clubfoot by setting up the Mexican Foundation For Clubfoot in 2011.
In this interview, Matt Prihoda (On His Path) interviews Male Garcia-Torres of the Mexican Foundation For Clubfoot about the many activities her organization is involved with across Mexico to treat children with congenital and neglected clubfoot.
Website: https://www.fundacionpev.org/
---
Grace Mission to the Nations – Uganda
Area of Focus: 
Headed by Pastor Francis M. Agati, Grace Mission to the Nations has effectively spread the Gospel of the Kingdom to save the lost souls to come to Jesus as their personal Saviour and Lord, to train pastors, church leaders and workers for the effective Evangelism in Uganda.
We organize church planting for the expansion of the body of Christ, We care for orphans, widows and children in our communities. We also train men and women in micro-enterprises so that they can learn a trade to support themselves.
Website:
---
Hays Pure Water for All
Area of Focus: 
Over 783 million people lack access to safe drinking water and many of these dirty water sources become breeding grounds for water borne diseases such as typhoid and cholera. Due to diseases like this, 3.4 million people die annually from lack of pure water.
John Hays has developed a water purification system that is simple, cost effective and can turn the dirty water into clean drinking water. Each device can provide clean water for over 5000 people for years. He has been taking these systems to over 50 countries and has been using this as an opportunity to spread the word of Jesus Christ to people in the most remote regions of the world.
Watch this video to learn about Hays Water for All:
And here's the "Voices in the Studio" interview with John Hays:
Website: https://www.hayspurewater.com/
---
Living Water Christian Mission
Area of Focus: 
Living Water Christian Mission provides medical, farming, education support to the community of Gonaives, Haiti.
Under the direction of Salonique Adolphe, the mission operates three churches and assist three others. They provide two elementary schools, one traditional high school and one high school for adults.  They also operate a school to learn a profession and a farm.
They also have a radio station that broadcast the Gospel to the people of Haiti and many listeners have come to Christ. Here's a recent update video with Salonique and Dr. Matt Prihoda:
Website: http://livingwaterchristianmission.org/
---
Mater Dei Africa
Area of Focus: 
The mission of Mater Dei Africa (MDA) is to transform the lives of the poor, including elderly people and vulnerable children, by providing integrated family care and community based services to enable them to become self reliant and productive members of society, both economically and socially.
MDA is made up of dedicated individuals spread out around the world, all working together to help the people of Northeastern Tanzania.
MDA is made up of dedicated individuals spread out around the world, all working together to help the people of Northeastern Tanzania.
Mater Dei Africa was formed as a result of reflection by its founder, Fr. Mansuetus Setonga, while pursuing his Ph.D. in Economic Development at the University of Iowa in the U.S.A.
Prior to his doctoral studies, Fr. Setonga worked as the General Secretary/Chancellor and Director of Development for the Diocese of Same. During this time, he felt called by God to eradicate poverty and support the people around him.
Website: http://materdeiafrica.org/
---
Mission Mobility
Area of Focus: 
At Mission : Mobility, our goal is to be a connection and collection network for wheelchairs and equipment to be sent to Guatemala to transform lives through the gift of mobility.
On His Path has committed to help connect and mobilize a network of volunteers throughout the US to collect wheelchairs in their local communities, then ship them to Bethel Ministries International in Guatemala. Once in Guatemala, these wheelchairs will be refurbished and given for free to disabled men, women and children throughout Guatemala.
Because we are a network of volunteers, we totally rely on volunteers who are willing to give their time and effort in helping in their local communities. Whether someone lives in a large city or small farming community, there are always opportunities to find critical equipment that can be used in Guatemala.
"On His Path" and "Mission : Mobility" have an ever growing list of donors and collection points throughout the United States, such as Iowa, Kentucky, Nebraska and Vermont.
Website: http://missionmobility.org/
---
Mission To The Nations – India
Area of Focus: 
Pastor Paparao Yelchuri in Kakinada, India works tirelessly to help many of the most disadvantaged people in India, from lepers to orphans, widows, and the homeless, while sharing the Gospel of Jesus Christ with them.
His extensive network of over 300 Christian pastors in the Kakinada area are making a difference in the lives of many – last year alone, they were able to baptize 28,800 people.
About 2% of the population of India are Christians – that's nearly 30 million believers in Christ. Thanks to Pastor Paparao and the other pastors, the love of Jesus Christ is being shared with many people who would have otherwise been forgotten.
In January 2019, representatives from the US-based Christian charity "On His Path" visited Pastor Paparao Yelchuri in Kakinada, India to witness his work for Mission to the Nations – India.
Website: http://missiontothenations.com/
---
Mt. Pleasant Christian School
Area of Focus: 
On His Path provides grants to Mt Pleasant's scholarship fund to help families with tuition cost.
Website: http://mtpleasantchristian.org/
---
OC Community Church
Area of Focus: 
We are a church that has for many years provided food distribution services for low income families around the Eastern Iowa area. Our mission is to serve this least of these (Matthew 25:40) and to take the gospel to the four corners of the world starting with Wayland Iowa. (Matthew 28:19 & 20)
OC Community Church is a "back to the basics" church. We strive to serve God through prayer and service (love) to others. There is no fancy talk just a Bible and people who love Jesus the meet in an old barn we call a church building.
Website: https://www.facebook.com/pg/OC-Community-Church-166519603366984
---
Operation Blessing International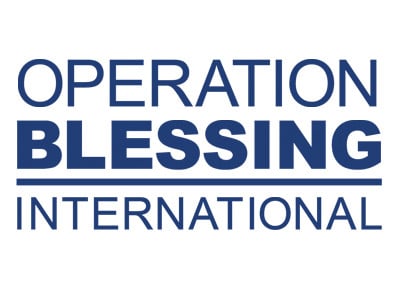 Area of Focus: 
Operation Blessing is a nonprofit humanitarian organization dedicated to demonstrating God's love by alleviating human need and suffering in the United States and around the world.
With the support of our generous partners including On His Path, Operation Blessing provides strategic relief on an ongoing basis through core programs such as disaster relief, health and medical care, hunger relief, and clean water.
Here is a video reviewing our recent accomplishments that were made possible with the help of On His Path.
Website: https://www.ob.org/
---
Onesimus – Ethiopia
Area of Focus: 
John Mitchell (co-founder of On His Path) interviews Pastor Nega Meaza of Ethiopia about his ministry that helps rescue young boys off the street and sharing the Gospel with them.
He created a Drop In Center that provides food, clothing and other assistance to then share the Good News of Jesus Christ. Pastor Meaza also shares about his growing up in a very crowded house in Ethiopia.
Website: https://onesimuscda.webs.com/
---
Retrograde Ministries
Area of Focus: 
On His Path supports Retrograde Ministries of Kalona, Iowa. They a discipleship program for people that suffer life-controlling issues such as addiction.
Their philosophy is to connect people to Christ which is necessary for people to truly transform. Their 3 step recovery process includes classes to work on their foundation, then part-time employment, and finally apartment living.
Retrograde Ministries was founded in 2015, and in this video we meet Director Michael Evans and his father Bill Evans who explain the purpose and details of the program.
Website: http://www.retrogradeministries.com
---
Take Away Hunger
Area of Focus: 
Take Away Hunger's mission is to feed the hungry and show the love of Jesus. Every 6 seconds a child dies (nearly 16,000 every day) because of hunger and related causes. 15.3 million children under 18 in the United States live in households where they are unable to consistently access enough nutritious food necessary for a healthy life.
The organization's approach to achieving its goal – the eradication of world hunger – includes the packaging of a highly nutritious, vitamin-fortified soy-rice casserole by volunteers at numerous locations within the USA and Canada; and the distribution of those meals to starving children and their families in 70 countries through partnerships with humanitarian organizations worldwide.
Take Away Hunger has provided over 2 billion meals for children and their families in 70 countries through the efforts of hundreds of thousands of volunteers. Fulfilling Take Away Hunger's mission requires a vast food packaging capacity to meet an endless demand for food. Take Away Hunger believes that the best way to engage the largest number of people is through a decentralized, locally-based network of food packaging satellites that are active in their community.
Website: https://www.takeawayhunger.com/
---
World Hope International
Area of Focus: 
Providing those in need with opportunity, dignity, and hope so they can possess the tools for change in themselves, their family and their community including in Haiti.
World Hope International is a Christian relief and development organization working with vulnerable and exploited communities to alleviate poverty, suffering, and injustice.
At World Hope International, we don't claim to have the grand solution to ending poverty. But there are simple steps we can take to alleviate suffering and empower the poor to help themselves.
Our programs bring tangible and positive change to the individuals we work with, who then go on to transform their communities and their countries. We base what we do on long-term results: we offer much more than charity, we provide resources and knowledge to the poor, so they can ultimately become agents of change within their communities.
Website: https://www.worldhope.org
---
THANKS!
Thank you to all of these organizations who are working on a day to day basis in helping those in need.
Many thousands of people have come to Christ through the love and assistance of these many individuals around the world, who are provided support by On His Path and our generous contributors!